Building Value
Sustainable goods. Sustainable careers. Sustainable community.
We're Hiring!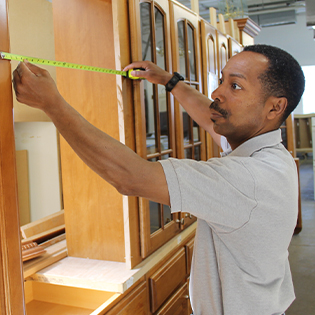 Dave Daniels has accepted a promotion with Building Value as our new workforce development specialist for our construction trainees.
That means we're looking for a new store manager for our Building Value retail operations in Northside! If you're customer-focused and would enjoy finding new homes for our amazing inventory of salvaged architecture, we'd love to hear from you!
Face coverings required.
Based on guidance from the Centers for Disease Control and the Ohio Department of Public Health, face coverings are required for customers, vendors, and staff visiting Building Value.
Please maintain a minimum six foot distance from others while shopping. We may also limit capacity inside the store during peak shopping hours.
We appreciate your cooperation and support! Thank you for showing others that you care about their health and safety by wearing your face covering!
Visit our COVID-19 information page to learn about current changes in place.
---
Building Value is an Easterseals social enterprise that salvages reusable materials for sale to the public. We are sustainability: Our efforts help the environment, reduce the cost of disposal, invest in the local workforce, and give architectural gems a second life.
Whether you, your contractor, or our professional deconstruction team does your tear-out, donating materials to Building Value also helps the community.
Supporting Building Value
keeps tons of materials out of landfills
provides valuable construction experience for people facing disadvantages and in need of a second chance to enter the workforce
supports programs that break down barriers to employment for people with disabilities, people facing, disadvantages and veterans through the work of our parent organization, Easterseals.
Plus, items donated are sold to the public at up to 75% below retail! We're your go-to source for new and used building materials, household items, and architectural gems. Sustainable goods. Sustainable careers. Sustainable community.
Sustainability. That's Building Value.
Call Building Value or stop by today to drop off donations, find a bargain, or make plans for your deconstruction project.
Building Value is a wholly owned subsidiary of Easterseals.