Full Structure Deconstruction

Full structure deconstruction preserves family memories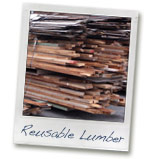 Bill Ryan's beloved horse barn had to come down. His grown children hated to see it go. With the help of Easterseals' Building Ability, Building Value was able to repurpose some of the salvaged wood in a way that kept memories of the barn alive.
To minimize risk and maximize safety, the deconstruction crew took the barn down in pieces with a fork truck before disassembling it on the ground. The Building Value team took apart the beams and lumber while a crew of people with disabilities from Easterseals focused on de-nailing and sorting.
One dumpster instead of five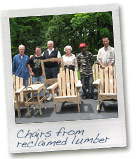 By salvaging most of the lumber, windows, stall doors and shutters, Ryan only sent one dumpster to the landfill, instead of the five that would have been used in a normal demolition of a building the barn's size.
Most of the materials were taken to Building Value's retail outlet and sold, but Ryan also commissioned Easterseals' Building Ability participants to make Adirondack chairs for Ryan's children. Now, every time they sit in the chairs, the Ryan family relives childhood memories.